In person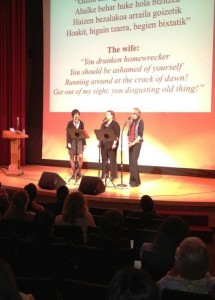 Andréa, Begoña, and Cathy are the daughters and granddaughters of Basque immigrants who grew up together in Chino, CA.  All three women are members of the Chino Basque club and were raised speaking and/or singing in Basque. Together in 1997, these three women formed the singing trio NOKA and have since recorded three CDs and toured internationally.
Informed by life experiences and academic research, NOKA primarily gives lecture-recitals that are intended to entertain but also to educate their audiences. All songs are sung in Basque (an endangered language), and as often as possible in noka (a unique gendered grammatical form of speech).
In our lecture recitals the audience is provided with English translations via power-point projection or small pamphlets.  Those who attend a NOKA performance will leave with a catchy tune in their heart and a bit of Basque knowledge in their head.